with dynamic inline-mixer Type: KMD-F / 5-1 / 6000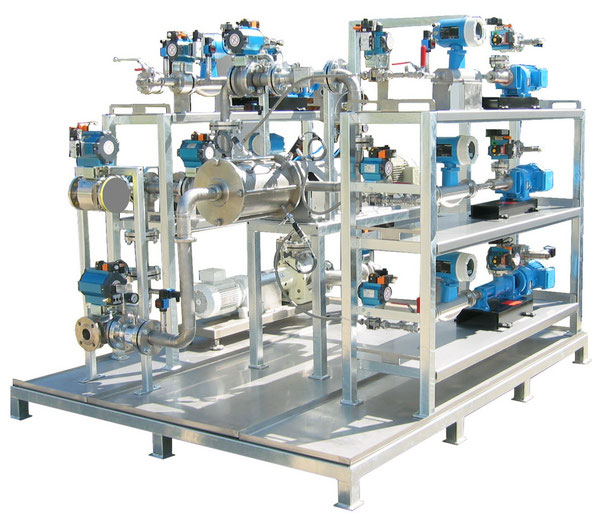 This compact dosing and mixing unit is developed and manufactured especially for the continuous production of several dispersion-adhesives.
The several raw/basic materials are dosed gravimetric oriented at the main flow from there raw dispersion.
The capacity and equipment for dosing and mixing can be designed and manufactured tailor made corresponding to the specifications and job definitions.
Applications:
- Compounds
- Adhesives
- Paints
- Different mixtures
Performance:
- Voltage: 230 / 400 VAC
- Drive power: 7.5 – 55 kW
- Compressed air: up to 6.0 bar
Features:
- Gravimetric dosing
- Pressure in the mixing head: 1.0 – 16 bar
- Flow rate: 600 – 6000 l/h
- Variable dosing range: 0.5 – 99.5 % (oriented at the main flow)
- Dosing accuracy: 0.5 – 1.0 %
- Connect several (up to 6 parts) dosing pumps with different dosing rate