for suspensions / dispersions Type: DSM-F / 2 - IBC-1000
This compact IBC dosing and mixing unit is developed and manufactured especially for the batch production of several product mixtures.
The several raw materials (activator, binder) are dosed gravimetric oriented towards the main product (basic product, semi-finished products) in the IBC on the balance of the mixing unit. The construction and equipment for dosing and mixing can be designed and manufactured tailor made corresponding to the specifications and procedural job definitions.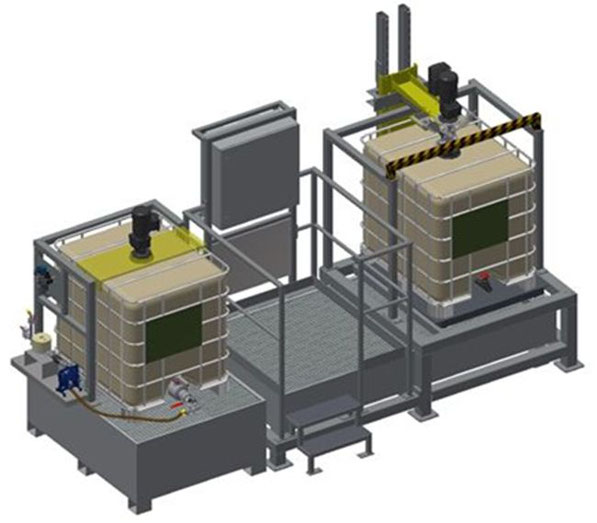 Applications:
- Dispersions, suspensions
- Adhesives
- Surface coatings
- Different mixtures
Performance:
- Voltage: 230 / 400 VAC
- Drive power: 0.75 – 3.0 kW
- Compressed air: up to 6.0 bar
Features:      
- Gravimetric dosing
- Dosing accuracy: 1.0 %
- Dosing several raw materials
- Automatic dosing and mixing

  process
- Simple handling over operator
  panel