Type SD characteristics and operating principle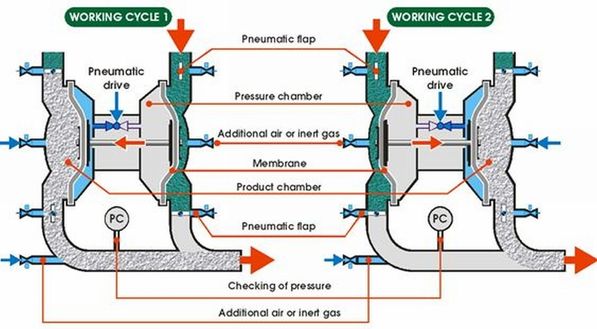 The DASAG powder pump with its own functionality and the resulting advantages is used in handling and processes with powdered compounds. Whether as a mobile compact unit or conveyor station in combination with container scales, container emptying stations and suction amplifier - the powder pump become the heart of many processes in powder processing industries.
The significant characteristis of the pump are:
- naturally aspirated via short suction line with light powders
- support good feeder with suction support from the support unit
- conveying by displacement with low additional air in the flow rate
- gentle transport due to low flow speed
- low pressure ratios and low conveying air portion require a relatively small dust removal system
On the container of the powder pump is a flexible docking system installed with a spring loaded clamping frame. It can be adapted to the parent container spouts.
In the mobile version of the compact unit it is possible to drive and to convey from several containers such as silos, bunkers etc. by relatively simple handling