and palletisation unit for moulds Type: AS-F / X / P 25-100
This filling plant is designed and manufactured for the dosing of viscous and abrasive materials to moulds.
The abrasive product (with steel fibres) is filled in moulds with metering pumps (screw pumps) with servodrive and without of air inclusions.
On the outlet of the metering pump is mounted a special flexible adapter (slender spout) with a pneumatic closing devices, by what is avoided the delaydrop of the product.
After the filling operation the moulds are palletise on plates automatically.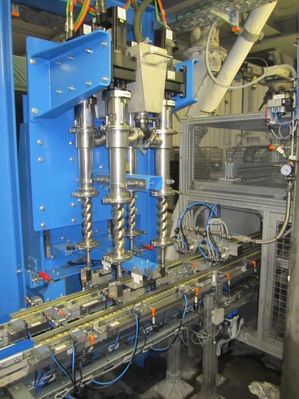 Applications:
- Paste-like and abrasive materials
- Liquids containing solids
- Additives
- Chemical products
Performance:
- Voltage: 230 / 400 VAC
- Drive power: 1.5 – 3.0 kW
- Compressed air: up to 6.0 bar
Features:
- Volumetric dosing
- Filling process free from air
- Dosing accuracy: 1 – 5 % (product-dependent)
- Filling capacity: 3 fillings/min
- Dosing range: 25 – 100 ml
- Automatic filling and palletising process